Kamala Harris is officially Biden's VP and now you can't tell Jamaicans nothing
When I learned that Joe Biden officially chose Kamala Harris to be his Vice President I wasn't surprised. I figured (like most people) there was a high chance she was going to be the nominee, but when it was confirmed my stomach sank. Not from disappointment because I support more progressive candidates, but because I knew in my heart that JAMAICANS ARE GOING TO ACT LIKE THEY HAVE NO BROUGHTUPSY!
Kamala Harris being nominated makes history on many levels. She is not only the first black woman to be on a US presidential ticket, but she is also the first South Asian. With all of this history in the making, Jamaicans on my timeline have skipped all of that JUST because her father is Jamaican. Like JAMAICAN Jamaican. Like when Kamala Harris made a joke about smoking weed he couldn't even give a diplomatic answer because as a Jamaican you're not going to embarrass the family and they are quick to tell you "me nuh grow yuh suh!" Jamaican parents can't even cover for you if they perceive something you're doing as foolishness. Not for a second! They will embarrass you for embarrassing them and feel no way about it.
Going back to the celebrations in my timeline. You know how we are. Jamaicans love good representation and to represent. Before we even open our mouths we tell you we are Jamaican. How do you ask? Well, you ask too many questions. YOU. JUST. KNOW. See picture below.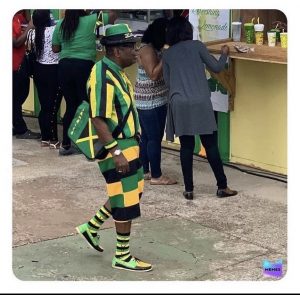 This man won't even let you guess.
We have to litter everything with our flag. It's always in our top ten most used emojis. We don't play with Jamaican pride. It runs deep.
These are the funniest memes and quotes I saw floating around on social media in response to Kamala's run as VP.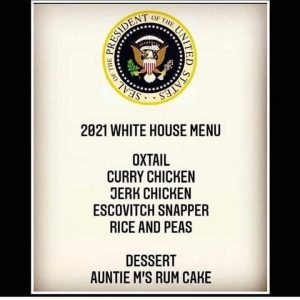 *They need to add some plantains and roast breadfruit to this*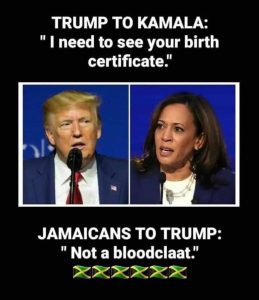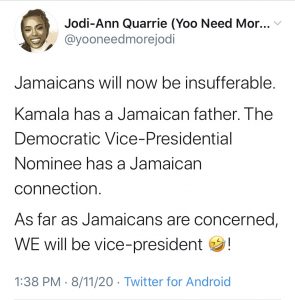 *This is exactly my point. Jodi-Ann.*
Kamala you think this is your vice presidential run? Ha! Think again. This is Jamaica's campaign now.
Jamaica to Kamala: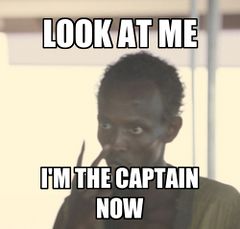 What are your thoughts?