The real winner of Brandy verzuz Monica…
Before I announce a winner, I would like to start off by saying that both Brandy and Monica are amazing artists in their own right.  Second of all, I would like to reveal my bias right off the bat. Brandy Rayana Norwood is my favorite singer. I've been rocking with Brandy since she came out with "I want to be down". I even sang the song as lead with a full band of my friends for the school talent show. We were good for 7th graders. (Shoutout to Suzy on the keys, Morgan on the Bass, and my bestie Chris Spencer on the drums)
I even wore braids like her in middle school. I'm talking about the braids with the burnt tips that would get stuck to my sweater often, the same synthetic braids that when they were freshly done the next day my hair still smelled like the bottom of the rice pot when the rice "catch" (Jamaican term). One day I was sitting behind a boy in class and he said, "Ugh! Something smells like it's burning" as he looked around perplexed. I knew it was my braids, but I didn't care. I was willing to give a burnt braid offering of personal embarrassment for Brandy because she was my idol and I wasn't ashamed of my Brandy devotion.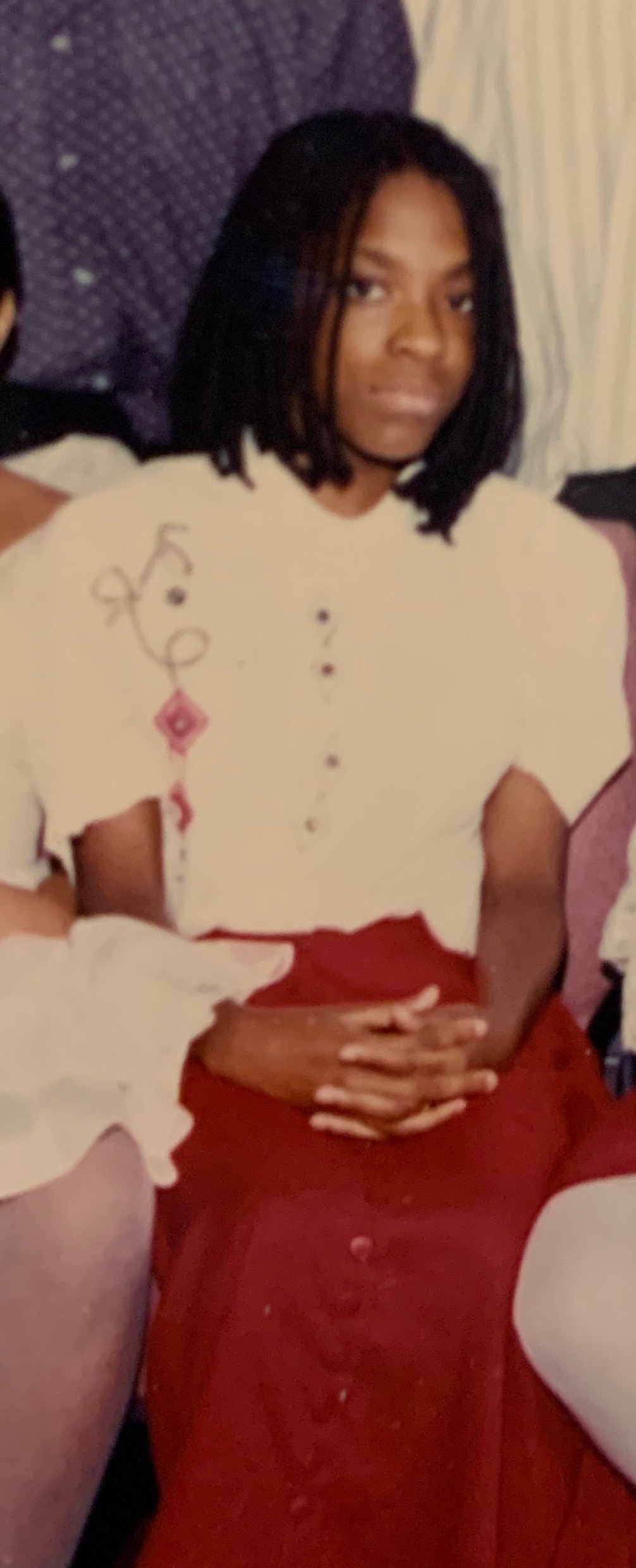 *Here, I looked like I wanna be down(trodden) AND Brokenhearted in this pic. Leave me alone!*
Knowing how much of a Brandy fan I am now, you can imagine the level of excitement when I found out that Monica finally agreed to do a VERZUZ battle with Brandy. I was elated at first, but then quickly realized that this was going to be a tricky one.
Anyone with access to the Internet or who has a minor Shaderoom addiction would know that Brandy and Monica have been feuding for years. Not only would they sub-post each other on Whitney's birthday, but the beef was also verified by a third-party Dallas Austin when he revealed that Monica punched Brandy in the face right before they were supposed to perform. Rude!
There's The Capulets vs The Montagues, The Hatfields vs McCoys, Donald Trump vs anyone he's pissed off with any moment (which is a daily occurrence), and then there's Brandy vs Monica
Several observations made during this BAKKLE

The atmosphere was so thick you could cut it with the white church mother sandals that Monica wore in the "Before you walk out of my life" video. There was so much shade being thrown between songs that I thought they were residents of Shady Pines with Sofia Petrillo.
There were some good jabs thrown. Brandy – played a little bit of Whitney Houston and her song Impossible from Cinderella and we know that that's a sore spot for Monica. They've publicly fought over Whitney many times like she was toilet tissue at the beginning of the pandemic. Whitney is literally Brandy's fairy Godmother and asked her to be Cinderella, Whitney dated Ray J (Why? I don't know), Whitney even died on Brandy's birthday 2/11. Their relationship is well documented. Brandy wins that one.
Monica then made the world aware that she and Vanessa Bryant are besties by dedicating the song "For you, I will" to her which was super sweet. (Even though many of us was introduced to Kobe Bryant when he took Brandy to prom and was on an episode of Moesha, but I digress… (I told y'all I was biased from the get-go, don't act brand new now)
Music Moments
1. When Brandy dropped "Almost doesn't count", "He is", "Angel in Disguise",' Sitting up in my room", "Full Moon" "Have you Ever"  Alladem!  The Vocal Bible doesn't miss!
2. When Monica dropped "So Gone" I was done. That's my jiggity jam. Monica singing just one of dem days- Brought the preteen out of me who felt with having her period.  Brandy was right. Monica had confidence at a young age. With that song, she made me feel comfortable with myself and the changes in my body. Kudos to Monica!
Throughout the night it was apparent that Brandy doesn't ever miss a chance to run. Her runs and riffs are clean and precise and she knows it. She was "sneak" running on all of her songs AND Monica's songs. Running permeates every area of her life.  I wonder how she pranks people?
Brandy: "Hello, is your refrigerator running?"
Prankee: "Yes. Why?"
Brandy: Good, cause I'm running too! *Proceeds to do an unearthly run on all the musical scales available*
Prankee: "That was dope, but don't call here again Brandy"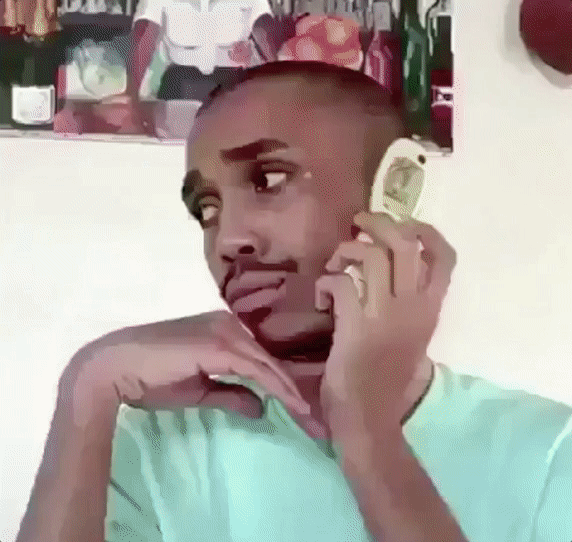 ** I promised I would announce a winner, but there were several winners of this battle **
   THE WINNERS
1. Black Twitter- the memes and the comments. Hilarious. Here are some good ones I saw.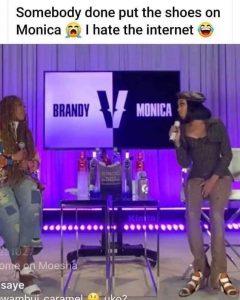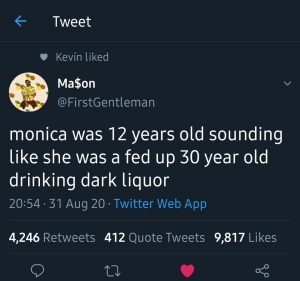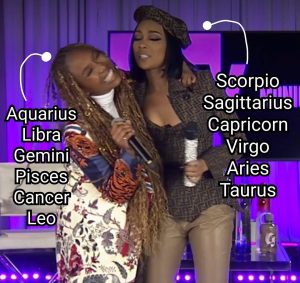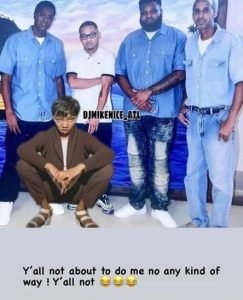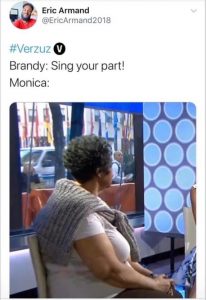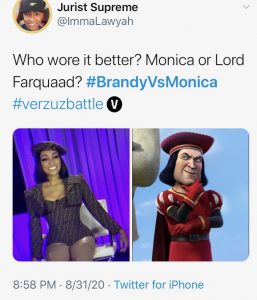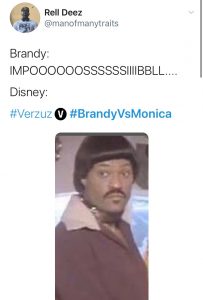 2. Church shoes – Looks like Payless can make a come back now. Maybe Monica gave Brandy similar shoes that she wore in that video like a peace offering.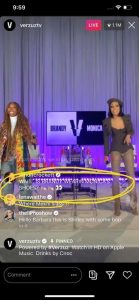 3. The Culture – We all won by watching these ladies play songs that brought many of us back to our childhood. So talented, so gifted. It took my mind a little bit off of Chadwick Boseman's untimely passing. There's gonna be 15,437 think pieces written about this battle and I could have written more things I observed, but it lasted 3 hours and me tiyad! They were so preachy and long-winded that I thought I was at a pentecostal revival.  When they ended with "The Boy is mine" I felt the same, amazing feeling that you feel when your mom looks at you across the pew in a long church service, with bible and purse in hand mouthing "We're leaving now."   Whew, I was ready to go!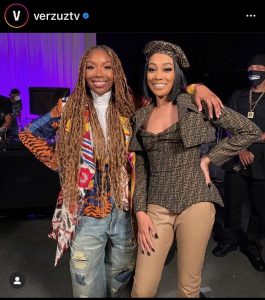 What did you think about this Verzuz Battle?