It's been a week now since John Legend has been chosen by People's magazine as the sexiest man alive and now I want to know which people they asked cause someone has to be held accountable for this.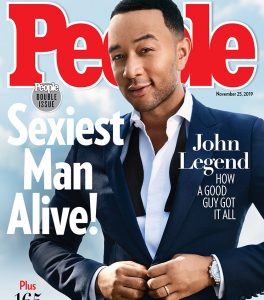 Don't get me wrong, I love me some John Legend. Like he's one of the least problematic celebs out there. He's incredibly talented, he uses his voice to speak out against injustice and he uses his voice to advocate for black girls SEE: R.Kelly Documentary. All of those things are sexy. I agree. Also, I adore him and his wife Chrissy Teigen cause they always stay ready to serve Toupee Fiasco (45)  and his band of thieves on Twitter. The tweets are savage. Also, they stay clownin' each other as husband and wife. The family that clowns together… well you know the rest.
That being said, you are an amazing human being John Roger Stephens aka John Legend BUT the sexiest man alive you are not. So tell me, John, you didn't feel funny during the photoshoot for the magazine?  Knowing that Omari Hardwick, Tom Hardy, Jason Momoa, Jeff Goldblum (The Fly Zaddy) are walking around alive and well and you are here holding the title?  I know you can do all things through Christ but not this John. NOT this.
Let's go back to the real culprit. The people at People's magazine. Like why People? You didn't learn from the Blake Shelton fiasco? Like, my good friend, Shamik Jones said: "Do they have a partnership with The Voice of something?" I'm beginning to wonder cause it's like that's the only garden they have to pluck from.  Most of the male judges on that show have been named the sexiest man alive in years past. Adam Levine was the only one that made sense. And even saying he was the sexiest man alive was a bit of a stretch.
I wonder who they will elect next year? We're already concerned about one 2020 Election. Now we gotta be nervous about two 2020 elections now. Thanks for nothing, People Magazine!
Here's some funny memes I've seen come through my timeline this week. The internet had a field day and I'm glad that Chrissy and John is taking all of this in stride.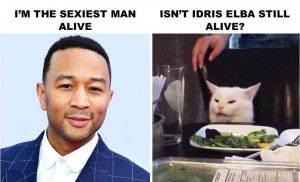 *This is my question for real*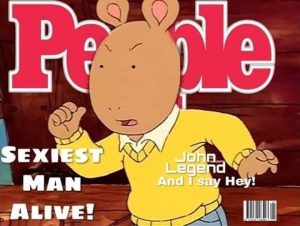 * Lawd, why are the internet peeps saying he looks like Arthur?*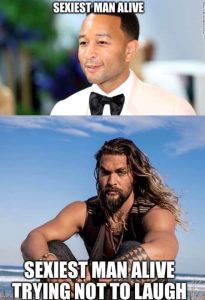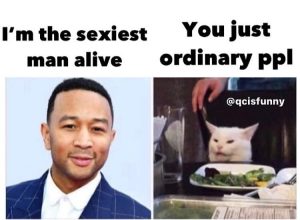 *My personal fave cause that's my jam*
What do you think about John the Legend being "The Sexiest Man Alive?"