Louis Vuitton made a sweater inspired by the Jamaican flag with the wrong colors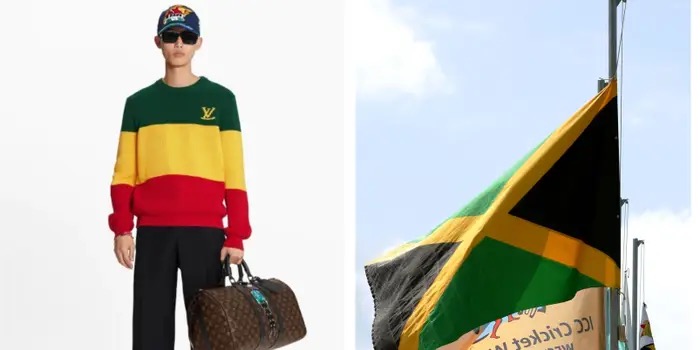 We thought that this last week the devil was just busy talking through the Republicans at the second Impeachment trial of Donald Trump, but apparently, the devil has the skills of an A-type project manager with multiple projects.
Louis Vuitton debuted a sweater they say was inspired by the Jamaican flag and I'm still trying to understand which Jamaica were they talking about?
On the right is the Jamaican flag. I'm not sure what is going on there on the left.
Listen, My parents were born there and I'm a citizen of Jamaica. I looked to and fro on Cicely Tyson's internet to see when the Jamaican flag was EVER the colors green, yellow, and RED? Maybe I missed it? Maybe I'm still dizzy from all the bashment parties in the '90s where Lady Saw ruled and Beenie Man drooled. Those dancehall parties were wild, long, and sweaty. I may be entitled to compensation from attending them.
This is why it is so important to have researchers and cultured folk in the creative room. They could have asked a Trini, a Bajan, someone who is a quarter Jamaican, or even someone that lives off of Jamaica avenue, and they could have looked at the mock-up and told you, "This ain't it."
People are out here having one crusty beef patty, fresh out of the oven coco bread with an ice cold bokkle of Ting ONCE and now they think they have enough knowledge to make a sweater inspired by Jamaican culture. The Brazenness!
Now some of you contrarians may say, "Well those are the Rastafarian colors so they're not wrong"  Guess what? They're not right either. Now, what Louis Vuitton CAN say is that the sweater is inspired by these countries' flags, but not Jamaica's flag.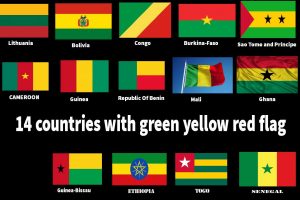 Oh and this is the part that really smashed my coconuts and spilled all ah de good good coconut wata pon de groung (ground).  The sweater costs $1,340 US. Like seriously?! You're charging people enough for a whole round trip ticket to Jamaica where you can behold with thine own eyes the real Jamaican flag the same amount for a sweater that doesn't accurately represent the Jamaican flag? Unuh Bright!
Sidenote: There really needs to be a hotline called 1-800-Ask-a-Jamaican where you get a Jamaican right away to check if you're about to do something this foolish. They might be a bit mis-er-a-ble, they may kiss their teeth when they get annoyed at your questions and at your existence, but you WILL get your question answered before they say "Chuh" and rudely hang up on you… from a rotary phone so you KNOW they've hung up on you.  Remember, you got your answer though… be grateful.
What do you think about this sweater? Would you rock it regardless of its inaccuracy of colors?